5 Tips For Choosing An Electrician
Tip 1. Verify Qualifications 
Specific qualifications might include Master Electrician, Commercial Electrician, or Residential Contractor. Each qualification directly relates to the services and range of work that an electrician can provide. It will serve you well to follow-up with their credentials to know what you are getting yourself into.
Tip 2. Consider License & Insurance
This is essential for several reasons. For starters, all electricians are required to carry both an up-to-date license and insurance policy. Ask for both before you go any further with a contractor.
Tip 3. Search for Experience
While an electrician who is just building his company may offer discounted rates, he also might not be able to produce quality work. It is always best to err on the side of caution and hire an experienced electrician. Check references to be sure.
Tip 4. Ask about Trade Memberships
Qualified electricians often will be involved with trade organizations throughout Australia. Lucky for you, trade members have to prove their service and their work history in order to gain entry into the organization. Ask for or seek out electricians who carry a trade membership to ensure their work will be high-quality.
Tip 5. Consider your Budget
It's a good idea to set your budget before you begin looking for an electrician. Also, be sure and ask for several quotes before you decide on the right contractor. Keep in mind that the most expensive bid might not always be the most qualified electrician and don't be afraid to look for cheaper options.
Licensed Electrician In Brisbane Northside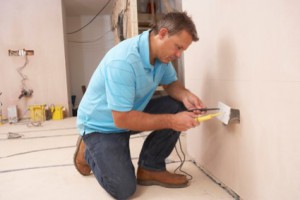 Finding a licensed electrician on the Northside of Brisbane in Queensland might seem like an easy task on the surface. After all, a quick Google search is likely to turn up hundreds of electricians waiting for you to call them. But did you know that there are certain safety and regulatory standards that these electricians are required to meet? Electrical work is dangerous, and if you hire the wrong electrician you could face dire consequences. Before you venture out and source an electrician, it is important to understand the qualifications and regulations for electricians. For example, all contractor electricians are required to be both a qualified technical person and a qualified business person. They also must carry insurance up to $5 million in order to protect your property. Any who fail to follow these regulations could end up not only producing sub-par work but could ultimately put your property at risk. Additionally, you can protect yourself by verifying the electrician's credentials. All licensed electricians in Brisbane Northside Queensland and their corresponding statuses are available on worksafe.gld.gov.au site. There, you can search for a license holder's status to make sure they carry all of the necessary legal qualifications to conduct work within Queensland.   Once you get past the technical and legal aspect of finding a licensed electrician, you can then go over your job requirements and discuss your project with the individual. It's important that your electrician listens to your needs and works hard to meet them. If not, you could end up with a sub-par job and an improperly wired building.   It is always best to choose a licensed electrician over a non-licensed electrician. Not only is it illegal for non-licensed electricians to work in Brisbane Queensland, it is also a risky undertaking to bypass the law. Do yourself and your project a favor by looking for and hiring a fully registered and legal electrician for your building work. Contact a Licenced Electrician in Brisbane Northside for more information. Or follow us on Facebook.